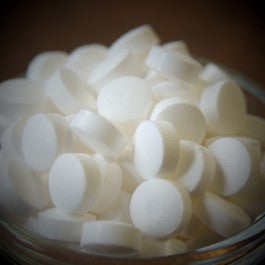 Campden Tablets
Made with Sodium Metabisulfite. Using 1 tablet per gallon, equals 30 ppm free SO2.
Please note: the Potassium Metabisulfite option is not available - use powder potassium metabisulfite in its place.
Used in wine to kill certain bacteria and inhibit the growth of most wild yeast, then prepare it for a "clean" fermentation. 
For use: 1 crushed tablet per gallon of wine. Pre dissolve in a small amount of water before adding to wine.