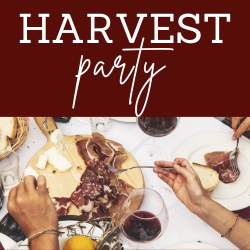 Harvest Party - November 11th Noon to 4pm
Regular price $50.00 Sale
After the harvest is over when grapes are fermenting or getting pressed, it's time to celebrate. We'll enjoy wines from previous seasons and some food - by popular demand, we'll have a dessert service too! 

Popular demand? We had a great time in June with a tasting party, and the top two comments were "can we do a dessert table" and "when is the next one?" So here we are: this is the next one, and we'll have dessert! 
Live music - R&R acoustic duo 
Food (final details to be announced soon)
Desserts - we'll have a few items specially made for us! 
We'll be announcing the winner of our home winemaking competition, too, 
This event will run inside.
More details to come soon. Food, samples, a few pours, dessert, music, and a lot of fun! Lots of new wines to try, too. 
Limited tickets, don't miss out!